TİKA CHAIRMAN ÇAM: ABILITY TO DIRECTLY DELIVER AID TO COUNTRIES IN NEED KEY TO OUR SUCCESS
03.01.2018
There is a model that is called the "Turkish model" in reference to development, which is also mentioned in academic literature. The swift and effective aid provided by Turkey to Somalia during the famine of 2011, for example, contributed to the birth of this concept. In this sense, the concept refers to direct contact with locals and analysis of their needs while providing swift, effective access to aid. Moreover, as the previous recipient of such aid itself, Turkey is capable of empathizing with other countries and providing aid without creating any grievances. This concept, on the other hand, wasn't coined by us but by the administrators of the countries we are working with in providing aid.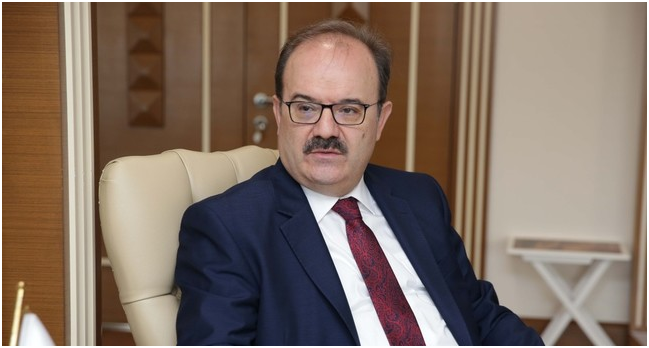 Turkey's development agency TİKA, with offices in 54 countries, has been directly reaching out and sending aid to those in need from Africa to Central Asia and to Latin America which Chairman Serdar Çam says is the most crucial aspect of their success
Turkey has once again topped the list of the most generous countries in regards to humanitarian support per the percentage to gross national income, according to a recent report published by Global Humanitarian Assistance. The head of the Turkish Cooperation and Coordination Agency (TİKA) Dr. Serdar Çam says that being in direct contact with the locals, analyzing their needs and providing them swift, effective access to aid have been the key contributing factors in their success.
Çam said TİKA currently has offices in 54 countries, adding that Turkey's performance and success in recent years has created a snowball effect, thus allowing their annual growth rate to reach nearly 10 percent.
As a result of TİKA's success with reference to development aids, there has emerged a model that is called the Turkish assistance model, which has also been covered in academic literature.
He stressed that Turkey, compared to other countries, has no hidden agendas amid its aims to provide humanitarian and developmental assistance, asserting that such transparency in policy implementation allows them to be successful in the field.
TİKA's head also said that Turkey has always been an advocate for equality among all people, regardless of religion, native language or ethnicity, emphasizing that applying this principle has been the secret to TİKA's success.
Speaking about the importance of advancement in the counterterrorism fight, Dr. Çam went on to note that TİKA has made great strides in achieving economic development and establishing stability in many countries worldwide, adding that the assistance TİKA provides has also prevented terrorist organizations from recruiting locals in some regions.
Daily Sabah: What are TİKA's goals and priorities with regard to opening branches around the world?
Serdar Çam:"TİKA opens offices in certain countries upon request. Currently, 54 countries have asked us to open offices in their respective countries and to share our experiences with them. Also, some offices are opened as a result of an official presidential visit to that country. Essentially, we contribute to our host countries in consolidation with infrastructural projects and improving healthcare and education. Turkey's performance and success in the recent years has had a snowball effect on demand. What is important is that our institution isn't all talk – we do what we set out to do, successfully. Dedicating the required resources to these efforts, coupled with the support and efforts provided to us by political figures are factors that have contributed to our abilities to improve our performance and overcome difficulties as they arise. Lacking selfish and self-seeking aims, Turkey is sharing its resources with the communities effected by crisis. This makes all the difference. Despite the issues Turkey has had over the past few years, none of TİKA's projects in those regions were effected negatively. We are actively engaged in a process that is incrementally progressing. All of these said factors are, in turn, contributing to the development of our country.
DS: TİKA defines its vision as "becoming the most effective institution in development cooperation with its unique model." Could you elaborate on TİKA's unique model?
SÇ: There is a model that is called the "Turkish model" in reference to development, which is also mentioned in academic literature. The swift and effective aid provided by Turkey to Somalia during the famine of 2011, for example, contributed to the birth of this concept. In this sense, the concept refers to direct contact with locals and analysis of their needs while providing swift, effective access to aid. Moreover, as the previous recipient of such aid itself, Turkey is capable of empathizing with other countries and providing aid without creating any grievances. This concept, on the other hand, wasn't coined by us but by the administrators of the countries we are working with in providing aid.
Our history, traditions and beliefs are definitely important with regards to how we do business.
For instance, during the holy month of Ramadan, there is an increase in sharing and giving back to the community. Therefore, we tend to help the less fortunate at this time. Merge this concept with the Turkish understanding of endowment and you'll understand another component that has contributed to the establishment of the Turkish model.
DS: There has been a substantial increase in the recent development of humanitarian aid. What is the cause of this prioritization? Moreover, could you provide figures and explain Turkey's future goals regarding this matter?
SÇ: This didn't happen overnight; there have been certain developments in the last five or six years. We were never a country that evoked indifference regarding what transpires beyond our borders. Furthermore, we're part of a historic culture which has provided aid with endowments, promoted soup kitchens and workshops. We love sharing with other communities and we are proud of it. Even though it seems like a political and bureaucratic initiative, it's actually a reflection of the people's will.
Turkey, on the other hand, has been transforming as well with regard to economic development, increasing its national dividend, improving diplomatic relations and becoming a stable country over the last 15 years. There are all parts of the country's transformation. Turkey's Africa initiative was proclaimed in 2005 and, in the same vein, in 2011 President Erdoğan promised an annual package worth $200 million to the least developed countries, calling on the other countries to sacrifice a little in order to help end world hunger. All of Turkey's efforts regarding this matter are results of this initiative. Even though Turkey promised to deliver $200 million in annual aid, the country increased this amount to $400 million when it was deemed necessary. Turkey has been advocating that all people are equal, regardless of their religion, language or ethnicity, and are trying to spread this understanding around the world. For this reason, Turkey has a critical role to play in many international organizations and on various platforms, having stepped up to the plate as it continues to lead other countries to do the same.
Turkey is making big strides, step by step. For the first time since 2010, the amount of our foreign aid has surpassed $1 billion. According to preliminary data from 2016, Turkey has provided foreign aid amounting to $6.2 billion. The foreign aid-national dividend ratio has been breaking records for the past three years. We are the most generous among the OECD countries. We have seen that these efforts are not simply in vain. Namely, when you look at many other countries and organizations, you'll see that all they do is talk and fail to produce or do many good deeds. Turkey, however, is not like other countries; it keeps its promises and stays true to its word. We hope the rest of the world will also uphold these principles.
DS: You provide development and humanitarian aid. Firstly, what is development aid all about?
Development aid is a process that changes according to regional and global developments. Nevertheless, it's important to assure that the aid you provide will have a permanent effect on its recipient(s). It's easy to claim to have provided aid simply by loading supplies onto a vessel. The real challenge starts after that. You have to unload supplies, store and distribute them. Moreover, you have to consider whether the country to which you're providing aid has other needs to be met. For example, simply delivering used clothing to a location to relieve your conscience due to religious holidays or other circumstances does not constitute a delivery of "aid." First, you have to determine needs of the particular people or country you are trying to help. Then, you must consider the relatively new concept of "humanitarian development aid." Assuming that your previous aid was wasted or stolen, you can provide a package that has been calculated in accordance with the daily caloric intake requirements of a small infant, for example. Developed countries make coordinated efforts and follow protocol regarding aid to assure it is provided in a more qualitative way. The aid should address the issues a country is having and help people to stand on their own two feet.
The most crucial issue is the non-existence of a state. States are built on tax collection; in order to collect taxes, its citizens must produce goods. In this sense, development forms a chain that expands out of circles. On the other hand, resources shouldn't be wasted. To illustrate, if a society needs 100 tons of flour, you can't improve their lives by sending 1,000 tons of flour. Aidmust be the reflection of one's conscience. What Turkey is doing is to help a single, downtrodden fellow get back on his feet without degradation or humiliation.
DS: To which regions and countries are you planning to provide the most intense aid packages in the coming years? Will you be opening new branches worldwide?
If we had a targeted growth ratio in accordance with technical planning, we wouldn't have grown to the extent that we have up to this point. Thus, the political pressure has provided us new growth incentives and we started to operate extensively after being told that all expenses would be covered. In ideal conditions, fast company growth is not always ideal. You must provide services, train people who have potential and conduct analysis regarding the needs of a particular country. Even though we try to grow steadily, conditions aren't allowing us to do so. We are continuing to grow in Africa exponentially; our annual growth rate is around 10 percent. President Erdoğan's visits to the continent are also critical. I believe we will expand in accordance with diplomatic activities from a political standpoint.
DS: Why is Africa given special priority in terms of your efforts?
It's a massive continent. We have been providing aid there for 10 years now. We continue to receive many requests from across the continent, as well. We have progressed tremendously in the Balkans, in terms of opening offices, for instance. However, the entire population of the Balkans is equal to a single country in Africa. The continent that is home to 1.3 billion people has more space for improvement. Moreover, there is great competition there. Certain countries are pursuing their interests on the continent under the guise of providing aid. This complicates the situation there, unfortunately. As we are trying to relieve tensions in the region and share our political and economic experiences, Africa has taken special priority in terms of our efforts.
DS: What kind of cooperative offers have you received from other development institutions around the world?
We have received offers for cooperation from our Western counterparts; especially from the Development Aid Community (DAC) which is comprised of Scandinavian countries and formed under the larger OECD body. When Turkey applied for DAC membership in the past, we were rejected. Now, the DAC is offering membership to Turkey.
Furthermore, we are cooperating with the Japanese JICA for third-party countries. Similarly, we are in close cooperation with South Korea's Institution for Development. We also have been engaged in ongoing meetings with China and India to establish new cooperative agreements. The most important aspect of Turkey and TİKA is that we are able to provide aid directly to those in need; compared to a majority of the world's major aid associations and agencies which are only able to provide aid to a minor portion of those in need while spending a majority of their financial resources on wages, logistics and other exaggerated costs. We, on the other hand, are able to effectively deliver aid directly to those in need and at minimal costs.
DS: What allows TİKA to deliver direct aid more effectively compared to other institutions?
Our first principle is sincerity. If you spend more money on logistics and other things that I mentioned before, you will be able to provide only a small portion of the intial aid package. As an institution, we see the budget provided to us as something that has been entrusted to us and we try to spend and use it efficiently. Every penny spent is under the supervision of the Court of Accounts and this allows us to be more efficient financially while procuring goods and providing aid.
I would also like to underscore that certain countries are abusing the system of development aid. For instance, they spend a certain amount of money for aid but ten-fold amounts are recorded in their accounts, allowing them to manipulate the funds according to the needs of organizations and non-governmental organizations (NGO) that could possibly interfere with the domestic politics of a particular country. This is where we stand out: Turkey does not have any hidden agenda. In fact, this is what allows us to be successful in the field.
The most important issue for developing countries is the inefficient use or even exploitation of the resource they possess. Moreover, these resources don't stay within their territories. For a country to develop effectively, its administrative and supervisory systems must be well established. There are many projects we are conducting in cooperation with the Court of Accounts and Justice Academy to improve the supervisory and judicial systems in those countries we're providing aid to. Thus, we don't just provide aid to a country but also devote our efforts to establishing a permanent development process in that country, as well as providing technical assistance.
DS: How does TİKA's aid contribute to Turkish foreign policy? Does your institution have such motives?
We're not politicians; we're technocrats. We are responsible for providing aid for humanitarian development in the best way possible, in accordance with directives provided by political leaders. We are cautious of the political consequences of the aid we provide and the projects we carry out. Also, we have a principle that says the aid we provide is not to cause harm to the recipient. Nevertheless, as an institution, we don't have political aims. I believe this is the secret of our success. When you are sincere and honest, your projects are harmonious with state policies.
Our direct aid touches the lives of recipients and surely has positive effects on Turkey as well. I can say that TİKA's activities have been important in dismantling prejudices and hostility formerly directed at Turkey. We form a bond with locals in the countries we serve. We also establish platforms that contribute to the betterment of relations between two countries. Thus, I believe these factors can be considered as gains in terms of Turkish foreign policy.

In addition, the improvement of relations through development aid also fosters closer relations between businesspeople in the effected countries. In turn, this also contributes to cultural and academic collaboration. In this respect, the aid we provide contributes to the added value of both Turkey and the countries we reach out to.
DS: Is there anything you would like to add?
I would like to talk about securing peace in the world and the importance of development in regards to the counterterrorism fight. Turkey is trying to thrive in a problematic and downtrodden region.
We are making great strides in achieving economic development and establishing stability in countries ranging from Myanmar to South Sudan and South America to the Caribbean. We are trying to do our duty. With the aid we have provided to Palestine, for example, we are trying to contribute to permanent peace between Israel and Palestine. We are working on securing peace in the Balkans, as well. Whenever and wherever there is an armed conflict in Africa, we try to lend a helping hand. If we don't help these regions, terrorist organizations like Boko Haram become enabled in recruiting locals. Al-Shabaab, for instance, is able to sway the minds of the country's unemployed youth. Similarly, al-Qaida and Daesh have begun to enjoy increased support from people in these regions.
The recent terrorist attacks in Europe once again revealed that the distinction between Western and Eastern capitals, in terms of security, are fading. Therefore, we expect Western countries and developed nations to sincerely engage in solving these issues.
Even though we try our best to improve the conditions of these regions, there are some actors who try to cast a shadow of doubt over our efforts with allegations and obstructions of the truth. Especially the efforts of developed countries against Turkey are not only hampering our efforts in the region but are also causing harm to the peoples of the region in which we are trying to lend a helping hand. For instance, if Turkey hadn't stepped up to the plate in the Syrian crisis, Europe wouldn't be as peaceful as it is today. Turkey has a heavy burden to carry and, if other countries support Turkey with a similar understanding and sincerity, this would have positive effects on those countries as well.
ALI ÜNAL/ Daily Sabah/ PublishedJune 24, 2017